One of the World's Largest Timber Towers Proposed for London
London's first timber skyscraper could be a step closer to reality after researchers presented London Mayor Boris Johnson with conceptual plans for an 80-story wooden building integrated within the city's Barbican residential estate.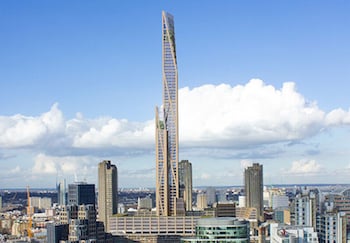 Researchers from Cambridge University's Department of Architecture are working with PLP Architecture and engineers Smith and Wallwork on the concept, which would create over 1,000 new residential units in a 1 million square-foot, mixed-use tower and mid-rise terraces in central London.
At present, the tallest timber building is a 14-story apartment block in Bergen, Norway. The proposals presented to Johnson include a timber tower almost 1,000 feet high, which would make it the second tallest building in London.

The proposed timber tower would be the second-tallest building in London. Image credit: PLP Architecture."We've designed the architecture and engineering and demonstrated it will stand, but this is at a scale no one has attempted to build before," says Dr. Michael Ramage, director of Cambridge's Centre for Natural Material Innovation. "We are developing a new understanding of primary challenges in structure and construction. There is a lot of work ahead, but we are confident of meeting all the challenges before us."
Click here for the full story.
Click here to watch a video discussing how this architecture works with timber materials.